BIOGRAPHY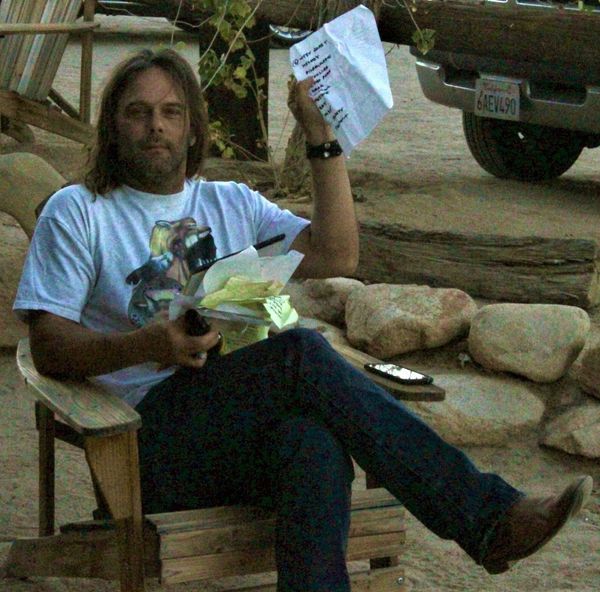 Los Angeles based singer-songwriter and recording artist Chris Laterzo has managed to keep the muse alive with the release of his fifth and latest album
West Coast Sound
.  Blending varying degrees of folk, rock, and alt-country, Laterzo is an artist who continues to create a unique style of song best described as American cowboy-rock. The spirit of the open road, the imagery of boundless landscapes and weathered travelers, the loping rhythms- as with Laterzo's previous work, it's all there in
West Coast Sound
.  Co produced by Jeff LeGore and Chris Laterzo, No Depression magazine noted of
West Coast Sound
 "God knows what in music makes us respond, but Laterzo has me looking out windows of trains and sitting around mountain campfires and even isolating myself in whatever landscape is available... Laterzo has something within that captures my ear... I almost hate wrapping up this review. Stacks of CDs and files are begging to be heard but all I want to do right now is lay back and listen to Chris Laterzo." 
The title track, 'West Coast Sound' kicks the album off and was written by Laterzo after he came to terms with being an Angeleno. "Although my hometown is Denver and I still consider Colorado 'home', I also grew up in Brussels, Belgium and Boston, MA. I now live in Los Angeles- and have for, oh my- how long did I say I was going to be here?" he laughs.  'Echo Park' marks a change in the artists life—"I still visualize sitting in the back room of my Echo Park house staring up at the near vertical backyard," said Laterzo "Not only was the geography vastly different from Venice Beach, but my lifestyle had taken a turn in that I was living with my girlfriend and we had just had a kid." The album ends with 'Chaperone', which Laterzo said was inspired by a dream. "I envisioned myself walking through past scenes of my life as if in a gallery with the thought that maybe having a chaperone/guide along the way would have been helpful." 
Drawn at an early age to the addictive tunes of Cat Stevens and Elton John, and later to the rawer elements of Creedence, Neil Young, Willie Nelson, Springsteen- and the list goes on- Laterzo soon gravitated to the guitar and the often exasperating process of writing original songs.  Poorly written songs led to better songs, which led to 'hey, that's a pretty good tune'. And here we are now.
After moving to Los Angeles, Laterzo was fortunate to cross paths with drummer and producer Denny Weston, Jr. to record his debut album
American River
and the follow up
WaterKing
. The L.A. Music Connection called
American River
"an engaging collection of American folk rock, and the essence of a rustic album."  In reviewing
WaterKing
, The Performing Songwriter Magazine stated "Laterzo is first and foremost a gifted melodist with an ear for hooks that sink in more deeply with each listen." 
The fall of 2004 brought the release of
Driftwood
, Chris' 3rd album.  In realizing
Driftwood
, Laterzo opted to take on full production and engineering responsibilities. Chris admits that in recording
Driftwood
(all recorded in his Venice, CA bungalow), "the end result is that I achieved exactly what I had envisioned- an album that has a homegrown and live-in-the studio band vibe.  I specifically kept the instrumentation simple (drums, bass, guitars, piano, pedal steel) and strictly ruled out layering guitar tracks and the use of all the bells and whistles." 
Summer 2009 brought
Juniper and Pinon
.  Basic tracks for the album were recorded at Sonora Studio in Glendale, California with overdubs being recorded in a variety of locations.  "Many of the vocal tracks, including two solo acoustic numbers, were recorded over two days in a suite at The Joshua Tree Inn.  For bass and drums on 'Hacienda' and 'Senorita Sunshine' we returned to Joshua Tree, California where we rented a house and set up all the recording gear.  The high desert offered an ideal setting for making this record, and we were able to capture some great moments." Laterzo said.  Co-produced by Laterzo and Jeff LeGore,
Juniper and Pinon
consists of nine Laterzo compositions and an alt-country version of Elton John's 'Holiday Inn'.  The album features Laterzo with his band Buffalo Robe, and includes several solo acoustic numbers as well. 
With what has been described as his "sweet So-Cal drawl and confessional melodies", Laterzo has the ability to articulate things both moving and straight-forward, which makes you realize he is a singer with an observant mind and a big heart. Already a contender on the California music scene, his new album 
West Coast Sound
 reaffirms that Chris Laterzo can compete with the best of Americana sounds nationwide. Laterzo spends a significant amount of time supporting his indie albums on the DIY touring circuit both solo and with his band Buffalo Robe, covering various parts of the US, and across the Atlantic to Europe.